Thailand welcomed me with their 'hospitality' already in Phuket Airport. First I discovered that Estonia is for some reason left out from the list where you can get a 30 day visa for free and left you with a 15 day one time entry visa worth 30$. Secondly, as expected, the hassle starts already in the airport official counters where they insist me going on these expensive taxis and get a shity exchange rate for my money saying they have the best one. Having avoided all that, decided to sit down to the bench outside and started waiting for my bus to the city. Letting the real South-East Asia experience begin!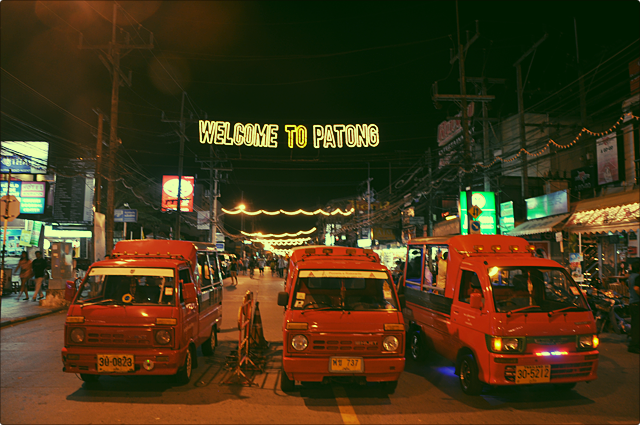 Welcome to Patong - the heart of Phuket. Glowing of lights, people, bars, pubs, restaurants, tuk-tuks, tourists, ladyboys, people selling you all kinds of stuff, constant hassling etc.
Our bartenders.
This would be the best example to describe the nightlife in Patang.
And here's mr Escobar on the left again, who I met randomly on the street here. And Chris on the right.
But I can tell you this - you don't wanna spend more than one night in that place!
Next day - the beaches (and sunburnes, again!). Followed by a trip through the whole peninsula with our hired motos.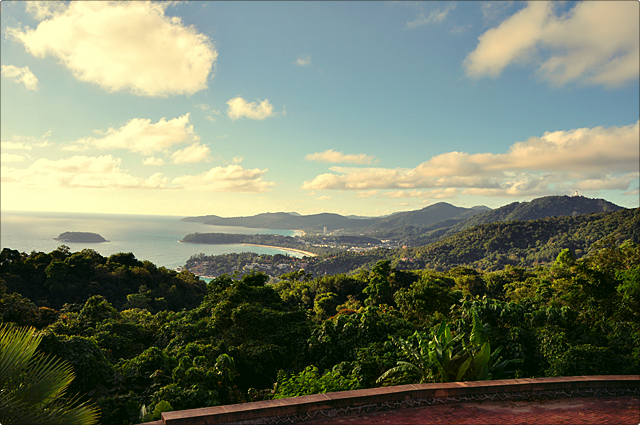 So, as expected, Phuket was touristy and overcrowded in certain areas.
Next stop: Phi Phi islands. There's a ferry going there. And of course you meet fellow travelers on it who become your companions for a few days or maybe more. There's a great thing about these 'friends' you get. Although the time you spend together isn't much, but maybe some day when you decide you want to visit South-Africa for example, you have a contact in Facebook who you have met somewhere on the road and who lives there and is kindly ready to show you around saving you the trouble of reading through few lonely planet's chapters.
So this was our crew in Phi Phi.
I'd say this is a place for a perfect vacation in Thailand - Phi Phi islands. Go there!
This is Estonia!
After sunset, things start happening in the beach.
And there was a bar in these small narrow streets here called Reggae Bar. In the middle of it, there was a traditional Thai boxing arena. And as you can see, a guy with that poster.
So after an hour. Or two. After our drinks were close to finish, me and Andrew decided to get some free drinks in the reggae-bar-way:
Fight was real. 3 rounds. Finished all. Sport won. No visible bruises. Estonian flag was held high again!
And every night usually ends in beach here. Together with fireshows, music, good food and fine drinks.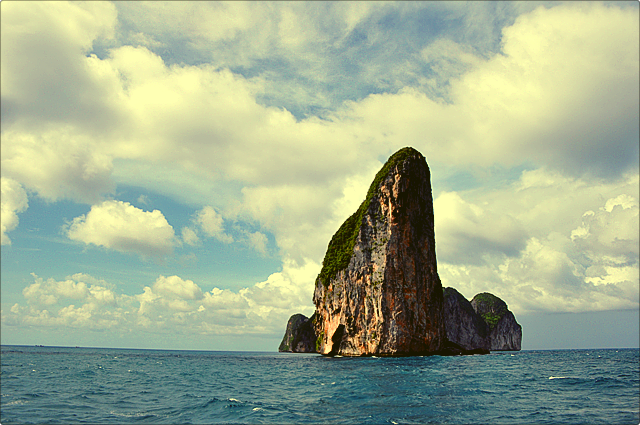 This is the island, where The Beach was filmed. Unfortunately my camera got jammed for some reason and this is as close as I'm able to bring it to you this time. Luckily I got it working again in the evening.
About this 'magical beach'. Can be way way over touristy as we experienced it - lots of people in really small strip of sand. But then again, half of us went there late afternoon with a 'storm approaching' weather and they said it was completely blank and not a soul there. Must have been awesome. I can already imagine the dark stormclouds, windy ocean and the view from that beach..
Next stop: Krabi.
I didn't find much else do here, but rock climbing. And I think I've found my new hobby! If only we had these rocks now here in Estonia also.
After 5 or 6 days, heading to Bangkok with a nightbus, to take regular bus to the Cambodia border to take a taxi to Siem Riep (read: 24hrs on the road)
Ceiling of my transport from Krabi to bus-station. Seems like this pickup truck has seen quite a fewbackpackers in its life..