A year has subtly passed since the last entry to the journeybook. However, the travels have not left me. And sincerely hope they never will. This blog here will now also consist of all my travels. Wherever they take me.
Here we go. It was last year (in 2010), early spring vacation in France-Germany-Switzerland.
Thank you Ryanair for the 500 kroon tickets Riga > Frankfurt.
Winter was still ghosting Eesti, so minutes after reaching Strasbourg we felt the urge to have a picnic outside. Didn't matter it was around 10C. Cheap wine and not so cheap strawberries from local groceries was all we needed.
Continued by early morning bicycle lessons in the roundabouts.
This is not one of these before and after pictures.
It is the my-bike-dies-and-i-will-leave-it-here-to-die-peacefully type of case.
Staying at Ines's place. This street was our home street for few days. Mommy Ciconias calling daddy Ciconias. Just watch out for the splashes when walking the pavement.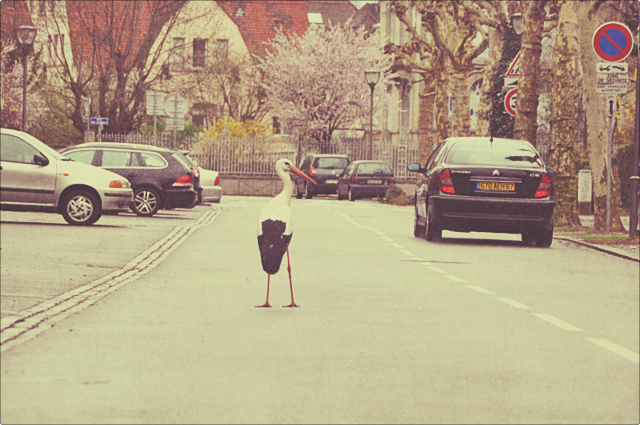 What do you do when you go to a french jazz club and hava bunch of foreigners in your table. You start playing Muts Notsu - an ancient Estonian card game (or is it?). Something we have all played when we were at the age of 5 or so. Spreading the culture. yeah
Must start going to the clubs with bicycle back home also. It's damn convenient. Not mentioning how much better cyclist you are on the late hours.
Alps. Here we come!
The plan was simple. We had a brand new rental Opel (literally 7 kilometers on the odometer) and take it from Germany to France, back to Germany, from there to Switzerland, then France again and finish in Frankfurt Airport, Germany. All that in 6 days. Easy!
Autobahns with our crappy engine - almost got the tear out.
Cheap fine wine from everywhere you go - good!
Quality turkish kebabs from every town - very good!
Estonian oat porridge in the mornings - almost as good as kebabs!
Small German towns with "lively nightlife" - need an improvement!
70 vol asian sake-likes (it was like sake) - can't remember.
German bratwursts - a must have!
Iranian disco night - survived without any explosions.
Boys havin cold room and girls having nice warm room every night in Strassbourg - not cool.
Europapark and Europe's fastest roller coasters - über cool!
Getting a speeding ticket and losing 50€ from credit card a week after trip - canceled the card
Going to central Europe again - for sure!